History of Bradley's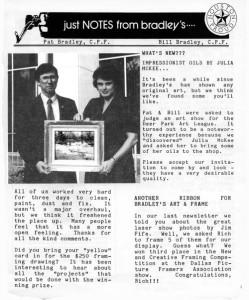 After graduating from high school, Bill had to decide whether to be a pilot or an artist. One could be a career; the other a hobby. Because the Korean War pilots absorbed the flying jobs, he decided on art. He went to the Cartoonists and Illustrators School in New York, studying animation. When Bill returned to Houston, he and a partner formed an animation company, Animated Pictures, and worked on some of the original NASA films during the Mercury space program.
Eventually they merged with the NASA film prime subcontractor, and Bill became head of the art department. But the entrepreneurial bug had bitten. He decided to find a business that would make use of his many talents. He and Pat found picture framing in 1970. They opened a small shop in Alief because their chosen location by Spring Shadows wasn't developed yet. In 1972 they moved into a 1,200-square-foot space on Hammerly.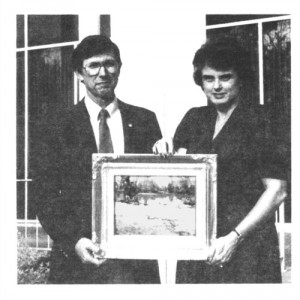 Their children were finishing elementary school when Bill and Pat started Bradley's Art & Frame. He kept his day job, coming to the shop at night to make frames. Pat ran the store during the day, going home to the kids at night. This grueling schedule was the only way they could do it.
In 1976, Bill quit his job and they doubled the size of the shop. Within six months they hired their first employee. Bradley's Art & Frame was on Hammerly, close to Gessner, for 15 years. In 1987, they moved to a brand-new building on Blalock at Westview. In 1998 they expanded to the existing 5,000 square feet.